We are all on a quest to find the formula for a happier life.
However, we all know there is no magic wand or a formula that can help us live a more fulfilled and happier life.
But, no activity has such power of improving and elevating your level of happiness as the gratefulness technique. There is actually scientific research and evidence about the benefits of expressing gratefulness, such as:
More energy
More forgiveness
Less depression
Less anxiety
Better sleep
Better health
The benefits of practicing gratitude are endless. People who regularly practice gratitude by taking time to notice and reflect upon the things they're thankful for experience more positive emotions, feel more alive, sleep better, express more compassion and kindness, and even have stronger immune systems.
According to Happify, Research by UC Davis psychologist Robert Emmons, author of Thanks!: How the New Science of Gratitude Can Make You Happier, shows that simply keeping a gratitude journal—regularly writing brief reflections on moments for which we're thankful—can significantly increase well-being and life satisfaction.
Here are some tips on how to be consistent with this habit of expressing gratitude and how to have fun with it:
Get specific – when you write down what you are grateful for, you can write down things like: my family, my business, my health…, but if you get more specific (ex. I loved the vegan pizza today, I am so thankful for the talk I had with my daughter today…), you would gain more attention from your brain and would open your eyes to more of the world around you. Make a game out of noticing new things each day.
Get Real About Your Gratitude Practice – at first, being excited and enthusiastic about starting a gratitude practice can be overwhelming and keeping you consistent. However, in a week or so, when the enthusiasm takes down, it is important to be prepared for this phase. You should prepare in advance for all the pessimistic scenarios. It is important to be optimistic about the benefits of a new habit while also being realistic about how difficult building the habit may be. Recognize and plan for the obstacles that may get in the way. For instance, if you tend to be exhausted at night and are more of a morning person, accept that it might not be the best time to focus for a few extra minutes and schedule your gratitude in the morning instead.
Get creative – besides keeping a gratitude log (which is built in Planzy), you can trying mixing out other things, such as gratitude jar, which you can review on New Years'. Try out new things to support the new habit of being grateful.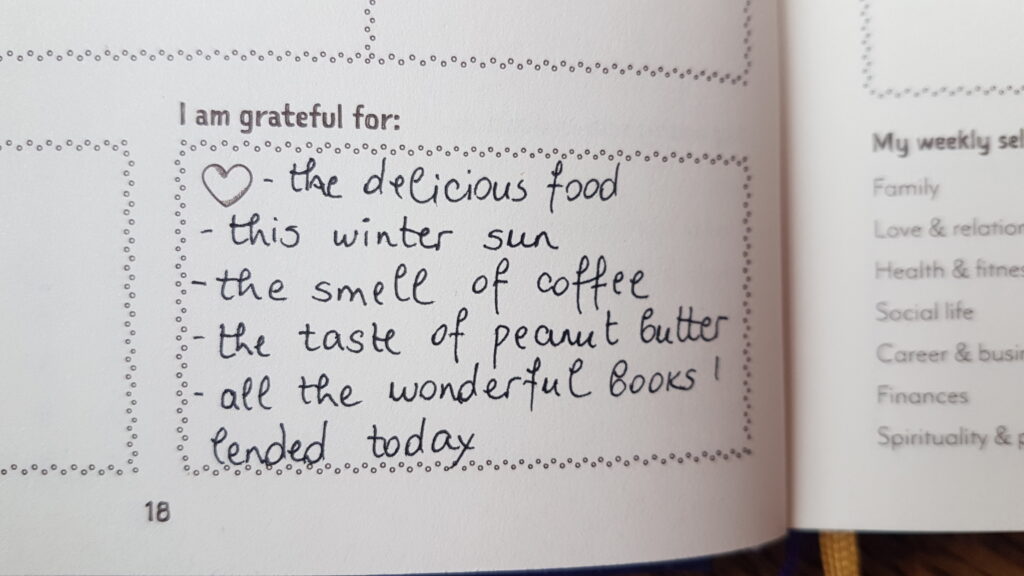 Start and finish your day with gratitude. I promise, it will take less than 5 minutes and the results will be invaluable.
Incorporating gratitude into your life is easy—and fun—with the Planzy Planner.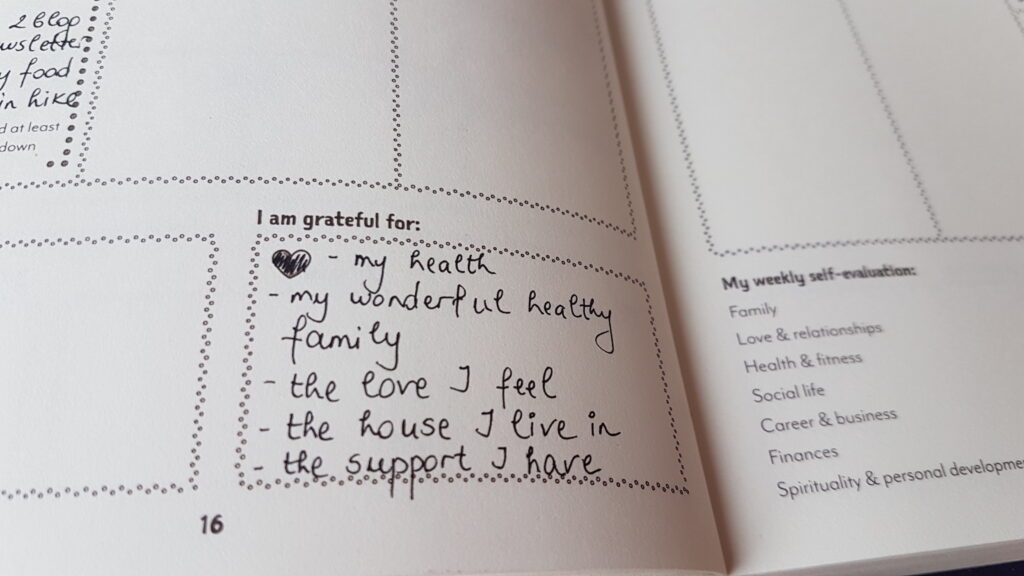 Source: Happify
Photos: Unspleash & Planzy Planner